Black Friday Deals: FREE Organic Steaks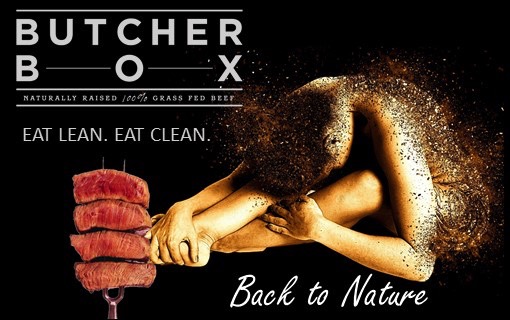 It's

BLACK

FRIDAY

 ! and you know what that means.
Exhilarating deals, left and right, baby!
I've got something you'll absolutely LOVE.
Hope ya' love steaks. Because you're getting a FREE Ultimate Steak Bundle (2x Ribeyes, 2x NY Strips, 2x Filet Mignons.)
Your health, relationship and sexual health matters, Sweetie. To me, and most especially to you and your partner/future partner.
And what better way to get in optimal health than to consume only the very best in good, organic food.
Besides, eating pasture-raised meat increases Testosterone for better sex.
So what's Butcherbox?
Here's something I recently found that I am sooo loving right now.
ButcherBox delivers the tastiest cuts of 100% grass-fed, grass-finished beef, heritage breed pork, and free-range organic chicken from trusted farmers right to your door.
The beef is packed with Omega-3's and vitamins. Certified MSA-grade and pasture raised.
Heritage Breed pork means the hogs possess distinguished ancestry, namely Duroc, Berkshire and Chester White. Their natural "old-world" genetics mean that in their slow maturation process they develop fine marbling and better flavor.
Their chickens are all juicier and more flavorful because they've been raised free-range on all vegetarian diet.
You can let ButcherBox curate a well-balanced assortment of meat for you, or you can customize your own box according to what you want.
Get some good, healthy, delicious, organic meat into your life to feed your Testosterone production.
⇐ Tastiest, Organic Cuts Sent Straight To Your Door (FREE Ultimate Steak Bundle For Your Order )
Instead of the usual Black Friday and Cyber Monday deals, these ones give you the boost your body and sex life needs.
Grab these deals before they're gone!