Over the last dozen lessons, I've taught you how to turn her on and get her engorged the right way to easily spot and stimulate her G-Spot. You know she wants it nice, slow, and sensual.
But you may be asking…
Is it always going to be all slow, delicate, and tender fingerplay?
You may think, "that's boring."
Well, then you're in for a treat. My 13th squirting tip will totally change how you see your woman from now on.
But first, check out Gabrielle Moore's Naked University Season 5 video, all ready, and all naked for your viewing and learning pleasure.
LUSTY SQUIRTAGE!
The reason why you want to start out slow, tender, and sensual is because that's how women are turned on.
We want heart-connected, eye-gazing, fingers-interlaced romance and foreplay so that we can fully trust and surrender to our lovers in pleasure.
However, when we're in the zone… remember this.
A woman's G-Spot can take A LOT of pressure. Especially when she's already hot, horny, and begging for more. She may want you to put the pedal to the metal.
She can take you in. Hard. And I mean ALL of you.
However, you must remember tip #8. She is the expert of her orgasm. So watch her reactions. Listen to her moans and sighs. Ask her. Does she want you to speed up? Does she want it harder?
If she does, go for it, lover.
She can take it.
You better be ready for it when she wants it. That's why you might want to prepare yourself by watching Gabrielle Moore's Squirting Obsession videos.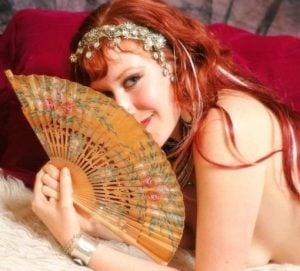 Tallulah Sulis
Certified Somatic Sexologist, Sex Educator, Coach, And Healer
Creator of "Female Liquid Orgasm" and "Squirt Your Heart Out"
You may ask why I'm promoting my friend's squirting videos instead of my own  "Female Liquid Orgasm" and "Squirt Your Heart Out" programs. And that is because when you are in a learning mode, you often want to get your hands on all the best available information possible from trusted resources. If you'd enjoy some gorgeous adult stars stripping down to show you how to make a woman squirt, then you will love what Gabby's created! Highly recommended.
✭✭✭✭✭ Five-Star New Squirting Video Series
⇐ Watch Gabrielle Moore's New Video On Squirting Orgasms
IMPORTANT: Use The Promo Code "INTIMATESQUIRT" To Get $50 OFF!