EFT "Emotional Freedom Technique" for Weight Loss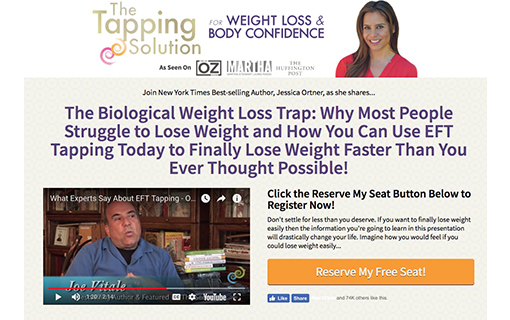 There are 4 words that I hear a lot from women… and to a degree, some men too…
"I hate my body"
These words don't always come out right away.  
But when the women I work with connect with their bodies and emotions, and they get their unconscious beliefs to come up… these words always seem to slip out.
Let me ask you something.
When you look in the mirror, how do you feel about your body?  What are the first words that come out? Say them out loud if you can.
If those words were negative, which they most often are (80% of the time in fact!), it's important that you know that those words signify an internal belief you have about yourself…
And those beliefs impact your ability to stick to a diet or exercise program and thus affect your weight, health and energy levels.
Which is why I want you to check out this free ebook from my friend and New York Times best-selling author Jessica Ortner.
⇐ And How to Eliminate Them in Minutes
YOUR BEAUTIFUL BODY
The ebook is a powerful resource for helping any woman to discover and reshape her internal framework for weight loss and body confidence.  
As Jessica says "You can't hate yourself happy.  You can't criticize yourself thin. You can't shame yourself wealthy.  Real change begins with self-love and care."
I believe, as Jessica does, that the key to obtaining a healthy weight and body, is through the inner work.  
You and I both know that "weight loss information" is not in short demand.  The weight loss industry is a billion dollar industry. And yet 2/3 of women in the United States are overweight.  
Our internal beliefs, traumas and emotions are what drive our ability to implement and succeed with any diet or exercise plan.  But if you're ignoring that inner framework, you'll continue to struggle with your results.
Check out this ebook with Jessica, you'll be glad you did.  
Jessica will show you how to not only find what inner blocks are sabotaging your success, but also how to eliminate them with one of the most powerful tools there is… Tapping.
If you haven't heard of Tapping, you're going to want to learn about it.  Study after study is proving its effectiveness in rewiring the brain and creating lasting change.
Go here to learn more.