How To Lead A Life-Changing Workshop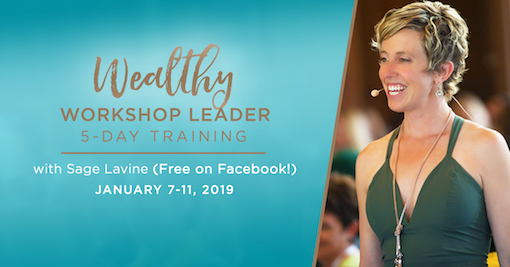 Have you considered leading live events as a way to grow your business and impact the lives of others in a positive way?
Having the tools to create revenue with your own live events will set your business up to thrive regardless of the economic or political climate.
Think about it…
You have a gift, product, service or message that NEEDS to be shared. Live events will magnify your message, as well as your authority, likeability, reach, and influence.
My friend and colleague Sage Lavine, believes that live events are the number one most effective tool for building your business.
And contrary to what you may think, they're actually simple to do.
Sage has developed a formula to impact 1000's of clients through her workshops and create millions of dollars in revenue.
You can do it too.
MAGNIFY YOUR INFLUENCE
Sage's clients have used this workshop recipe to generate $20,000 – $100,000+ in revenue at their workshops… the format just works because the connection in the room creates currency.  (Very cool.)
Leading workshops is also a great way to give back; Sage has used her events to raise money for women's causes all over the world including women in the Amazon rainforest and abused women in Indonesia.
This workshop monetizing formula has created financial freedom for thousands of entrepreneurs and it can support you to THRIVE regardless of what might be happening around you.
Your clients, students, and fans are waiting.
Workshops are simply a superior model for connecting with potential clients, live events create intimacy and trust… and connection is currency.  Discover how to create this kind of currency in YOUR business…
⇐ How To Lead Workshops That Change Lives And Magnify Your Business