Oral Sex Tip: Multitasking Mouth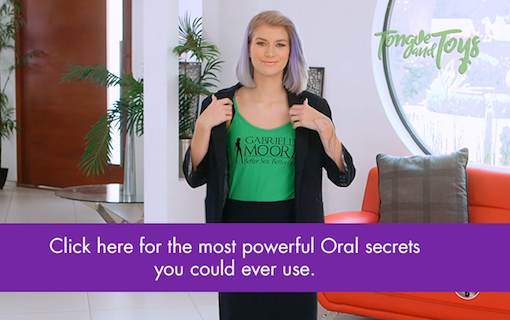 Here's an oral sex tip for you. 
Just because you're using your mouth to give a woman some oral lovin', doesn't mean you can't use it for something else. 
Being on the receiving end of oral drowns a woman in so much pleasure, she'll feel like she's getting lost in bliss. 
My tip for you is to "talk her through it." 
In between your wonderful kisses, licks, and nibbles, you can use your hands to stroke her sweet spots and whisper sweet nothings to her. 
Your voice will navigate her through the ocean of pleasure she's in and brings her attention back to you. 
You don't have to do spoken word poetry. Just describe what your senses are experiencing. Her beautiful body. The smell and taste of her juices. The hairs on her skin standing on end. Tell her what you're going to do to her. And how it's going to make her feel. 
That will be more than enough to take her over the edge. 
For more oral sex techniques, you may want to watch this feisty 25-year-old girl, Arya, strip naked in front of you as she shows you some of the most orgasmic oral sex tips ever. 
⇐ She Also Teaches Some Orgasmic Oral Sex Techniques 

SHE'S READY FOR YOU 
Women love getting oral. And for some women, it's the ONLY way they can ever reach a powerful, full-body climax. 
PLUS, when you get so good at giving her oral lovin', she's going to constantly talk about how she wants to please YOU. 
That's right. She will ALWAYS be satisfied in bed when you know some truly amazing oral sex techniques. 
That's why it's super important guys like you watch Gabrielle Moore's NEW video right now. 
She's put together a new team of hot ladies ready and willing to get down and dirty for you. 
If that's something you're interested in, which I know you are, you might want to click on the link below and watch every second of Gabby's video.