Don't Ignore Possible PROSTATE Problems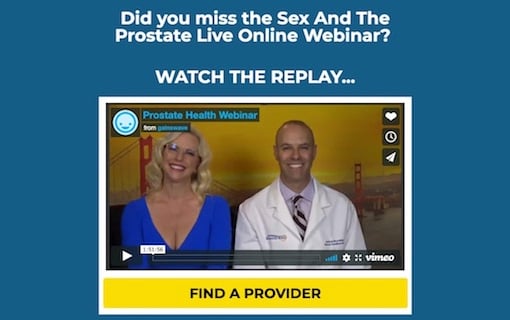 Whether you're still in your 30s or already in your 50s and 60s… 
If you're experiencing one or more of these symptoms: 
Frequent urge to urinate 

Wake up several times at night to urinate 

Blood in the urine or semen 

Pain or burning sensation when urinating  

Frequent pain or stiffness in your lower back, hips, upper thighs, pelvic or rectal area 

Painful ejaculation 
You MAY have symptoms of a possible prostate problem. 3 of the most common prostate problems are overgrowth, infections, and prostate cancer. 
However, I'm saying this not to make you worry, but to let you know not to take these symptoms lightly. 
You're going to want to watch the Sex and The Prostate Webinar REPLAY I did with a board-certified urologist here… 
BOOMING SEX LIFE 
The American Cancer Society's estimates for prostate cancer in the United States alone for 2019 go up to about 174,650 new cases. That's because a lot of people wait for something BIG and BAD to happen before they take action. 
That is why I'm inviting you to one of the most important events that I am personally a part of right now. 
And it has to do with your prostate, sexual health, and overall quality of life. 
Dr. Judson Brandeis is a board-certified urologist and GAINSWave director of clinical excellence. 
In this online event, Dr. Brandeis answers over 100 men's questions about the prostate and the common problems so many are facing including overgrowth, infections, and cancer. 
We also talk about the prostate's function, as well as methods used to treat the symptoms before they get much worse. 
We cover E.D. post-surgery and some of the ways men can overcome this problem through proper counseling and treatment including GAINSWave. 
⇐Biohack Your "Package" with GAINSWave (Supercharging Your Mancannon) 
Here's what you'll discover inside the book: 
How to give your package a much-needed tune-up.

One potent sexual biohack your partner will love.

Why regular maintenance is essential.

What GAINSWave® is, how it works, and what to expect.

Patient testimonials & clinical studies.

How to find a provider & start the conversation.