Women's Health And Self-Care Summit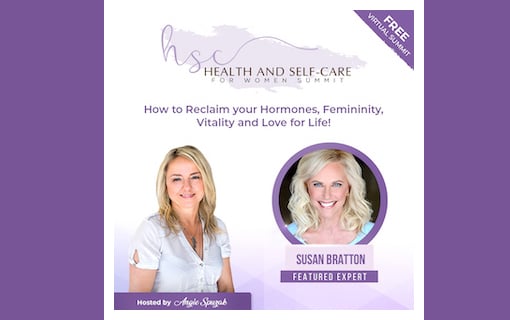 If you've been receiving my newsletters for a while, you know I'm frequently the featured "sexpert" on many free video summits on the Internet.
This women's self-care summit has an impressive line-up of really SOLID experts on it. Your host, Angie, recruited top-notch people and it's free to you.
I'm going to be watching a few of these videos that are particularly interesting to me including:
Rites of Passage
SOMA Breathwork
Sound Healing
Trauma Release
Shamanic De-Armoring
Learning To Trust Again
Mind Transformation
How unique and cool are these expert's specialties!?!
There are all the normal hormone balancing types of speakers on this summit… but these seven expert's skills are very unique concepts I can't wait to dive into. Join me!
ANGIE SPUZAK'S SELF-CARE SUMMIT
This life-changing FREE online event was created by my friend and colleague, Angie Spuzak, after her health challenges and struggle to get the support that she needed.
Despite being a natural chef, Angie struggled to find the resources to manage her hormones and make sense of her changing body, relationships, desires, and needs.
She found herself struggling with adrenal fatigue, hormonal imbalances, and burn out.
She was overwhelmed and overworked and did not know how to find time for self-care.
After many visits to the doctor's office, she decided to look for answers on her own to feel like herself again.
She discovered that you can make changes to your lifestyle and you can be your health advocate, and healer.
With the right information and support, you can create the life you want, feel vibrant, be healthy, and find your purpose.
Join me and over 40 experts, including Dr. Anna Cabeca, Debra Atkinson, Dr. Keesha Ewers, Katherine Woodward Thomas, and more for the Health and Self-care for Women Summit.
In just 21 days, you can learn how to balance your hormones, find time for self-care, and transform every area of your life.
This is a life-changing opportunity to learn from world-renowned experts: doctors, nutritionists, life coaches, herbalists, New York Times' best-selling authors, coaches, and healers.
These experts in the fields of hormones, nutrition, yoga, relationships, health, intimacy, health, money, success, beauty, and personal transformation have helped millions of women just like you create the life you want.
I hope you will join us!