A Man's Guide To Intimacy (Free Video Series)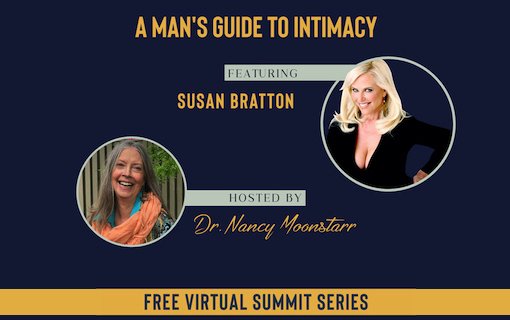 Please join our very own Susan Bratton as she is interviewed by Dr. Nancy Moonstarr, a psychologist, along with 20 other experts as part of the series: 'A Man's Guide to Intimacy, The Secrets To Keeping Her Wanting, Sizzling, and Forever Yours.'
We are excited to invite you to a series that requires your body, mind, heart, and soul to be involved as we focus on men's needs and offer secrets, tips and intimacy advice.
TOO HOT TO HANDLE
The series starts on February 29, 2020, a day considered especially lucky in love!
Dr. Nancy Moonstarr is passionate about helping men give and receive intimacy so that they can have fulfilling sex lives. For over forty years, she has specialized in helping clients build relationships, overcome challenges and find purpose.
The #TimesUp and #MeToo movements have given rise to a #TimesRight Movement for both genders to empower and support each other to problem-solve issues that polarize and side with either genders.
Nancy believes our solution-oriented influences will usher in a new humanity which will cause the divine feminine and masculine to rise together.
This vision has led Nancy to her current calling—an advocate for men, and that has motivated her to create this FREE online series:
'A Man's Guide To Intimacy – The Secrets to Keeping her Wanting, Sizzling, and Forever Yours!'
I hope you'll join us by registering below.
⇐ A Man's Guide To Intimacy With Nancy Moonstarr, Susan Bratton And Over 20 Intimacy Experts 
By attending, you'll learn specific techniques and approaches that will change your life and raise your intimacy to new levels. You're about to experience fun, exciting, real conversations on:
Vulnerabilities men feel regarding sex and performance and getting through to women.
How to word questions to get the maximum information from a woman.
Secrets that most men will never know about body intimacy.
Ways to fix and turn things, even anxiety into yours and her heart's delight.