Funny Pandemic Pick Up Lines!
Are you a perv or a pal?
There will be a lot of lucky couples who strike up romances from afar during this crazy pandemic. All the dating apps are debuting new video chat features for quarantined singles.
You already know you can't win if you don't play… so again I encourage you to update your online profile, snap some new pics, and start connecting. Try one of these beauty ring lights for your phone to make yourself look as attractive as possible.
MAKES YOU LOOK REALLY GOOD!
Don't allow yourself to be forced into loneliness!
For my guys, here is a new strategy for men finding love from my girlfriend Marni, The Wing Girl.
⇐ How To Use Funny Pick Up Lines On A Woman And Flirt With Her The Way She Wants You To
After this little corona chuckle, make sure you see how the F Formula will help you find a super great girlfriend even if you're stuck at home right now.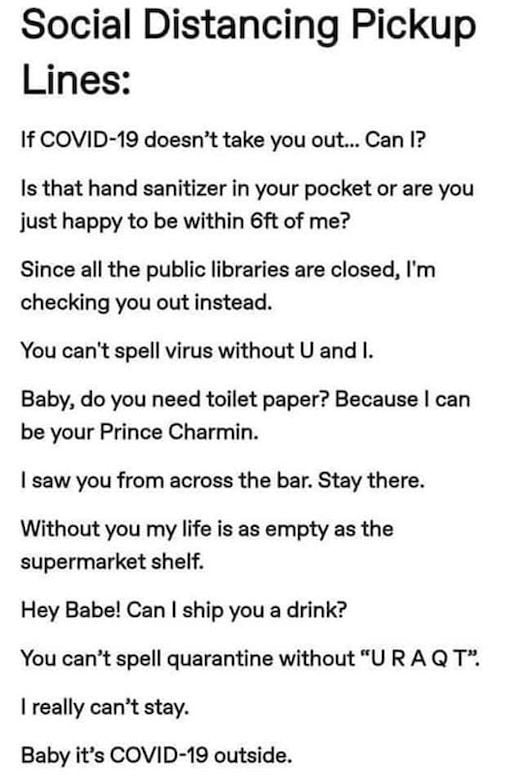 If you want to meet a woman, I encourage you to establish some friendships right now on Match, Plenty of Fish, or eHarmony where the ratios are most advantageous.
Tinder is really more of a hookup platform, like Grindr for same-sex partners. So I'd skip those two for now.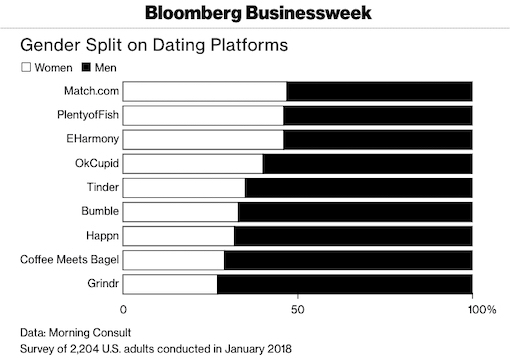 WHERE THE WOMEN ARE
Polish up your profile and post some new selfies. I PROMISE there are so many women looking for a connection. Now more than ever is a great time to let love blossom.
Before you start, watch my best dating advice video playlist. There are some nuanced tips on those videos that will help you cut through the crap and find some really good potential partners.
MID-LIFE DATING
You may also enjoy watching my Dating Dilemma's episode of The Susan Bratton show. It will cheer you up and inspire you!
DATING DILEMMAS
In the F Formula, you will discover the three phases of getting a girlfriend. ALL of these can be done remotely.
Initiation
Escalation
Infatuation
You will understand the big picture goals…
Goal A: Correctly display your intent
B: Earn her trust
C: Create a desire for you within her
D: Decode her female cues to assess that she's positively responding.
And the F Formula will give her the feelings she needs to feel. Trust me, we women are totally different than you guys. So it's important to meet her emotional needs:
✓ This guy knows how to turn me on physically and mentally, which means he'll be good in the bedroom
✓ He's non-judgmental and accepting of what I do and don't like; He doesn't think I'm a prude or a slut
✓ He's not a Pal: He showed me he knows how to take action and be masculine
✓ He's not a Perv: He can read my signals, and won't make me feel used after we get intimate—he has no ulterior motives
✓ He wants to please me and give me a good experience; he doesn't see me as a sexual conquest
✓ He's attracted to me because I'm special and different from other girls
⇐ How To Use Funny Pick Up Lines On A Woman And Flirt With Her The Way She Wants You To
Aren't you so lucky you live in the Internet age where you can flirt your ass off with sexy girls over video?
Who knows where this is gonna lead!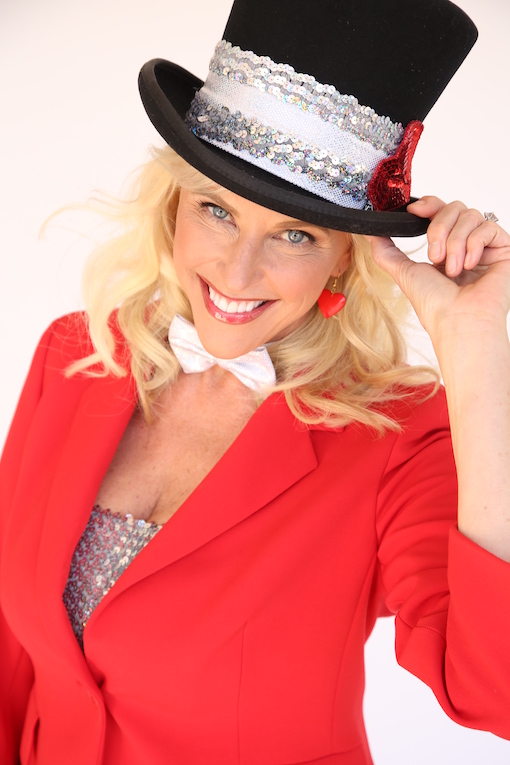 All information from Susan Bratton, Personal Life Media, The20, and all of our collective brands' advice are personal opinions. Our advice is not intended or implied to be a substitute for professional medical advice, diagnosis or treatment and is for general information purposes only. Always seek consultation from your doctor. Susan has personally vetted and receives affiliate commissions from most of the products and programs she recommends.