Painful Sex :( Vagina Shut Tight!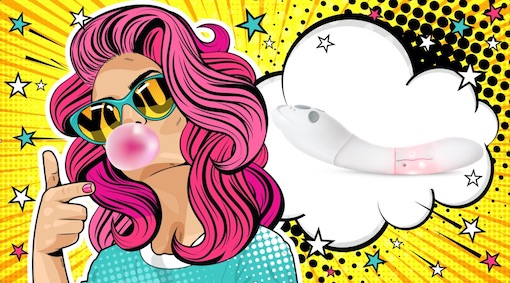 HELP! My vagina closed up. I experience painful sex and it burns when I insert my finger!
Women lose interest in sex after menopause for any number of reasons: loss of estrogen, low or no testosterone, thinning vaginal walls, lack of blood flow to the pelvis.
Any one of these conditions can result in painful sex. My friend Jennifer had all three combined. OUCH!
THE JOYLUX VFIT
If you read my recent emails, you'll remember Jennifer's story. She recently started dating after a long dry spell and was nervous about making love now that she's sixty.
I hadn't heard from her since her JoyLux VFit arrived in the mail so I called her the other day. I expected her to rave about her new toy and thought for sure she was starting to see the kind of remarkable results I experienced… in the first two weeks!
Jennifer told me she loved the sleek, curved design of her VFit… called it "the most beautiful sex toy known to womankind."
But I was startled when she told me she'd only used it twice.
"Why?" I asked. "What happened?"
"It was nothing but pain," she said.
"Oh my," I replied. "What lubricant have you tried? Are you able to get a finger inside? Is this something new? Are you having vaginal dryness?"
She said: "I can get a finger inside, but fingers are a lot smaller than the magic wand. Dryness is not the issue, my guy says I'm plenty juicy."
I asked, "Does it hurt like your tissue is being overstretched?"
"It's a searing, burning sensation," she replied. "Right at the base of the opening, which is much smaller than it was when I was having a LOT of great sex."
SAY GOODBYE TO PAINFUL SEX
The bottom line, Jennifer gets juicy but her tissue is tight. It's a common problem for women after menopause. And even for younger women who haven't had sex in a while… a sad situation that many people are faced with as a fallout of social distancing. The Rona has impacted our social lives and dating options big time.
Since this awful situation is so pervasive among women, I'm going to share the exact prescription I gave Jennifer. Follow these instructions to a T and even the tightest vagina will start to open up.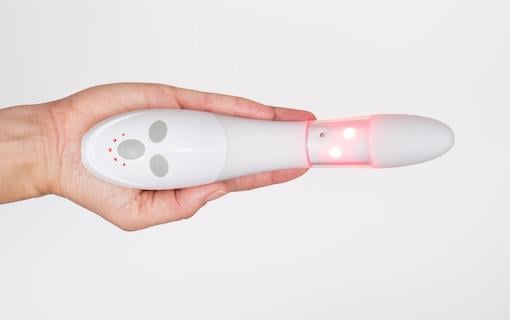 Get your VFit. (Believe me, you'll be glad you did. I've heard so many women say, "It's the best investment in myself I've ever made!")
For the first three days, massage your vaginal opening morning and night. Use avocado oil or Organic Vaginal Moisturizer By BeeFriendly.
Morning and night, take one capsule of FLOW, my blood flow supplement. (FLOW replenishes Nitric Oxide in your body. Nitric Oxide relaxes and dilates your blood vessels so blood can circulate more easily, bringing oxygen and nutrients throughout your body, including your genitals. The increased blood flow will make massaging your vulva even more beneficial and increase vaginal lubrication).
After a few days, introduce the VFit just as much as it is comfortable. Slowly expand the tissue. You will have a tendency to tighten up. Breathe deeply into your yoni. You want her to open like you're pushing out a baby. Do this morning and night.
THE SOLUTION TO PAINFUL SEX IS IN YOUR HANDS
As I explained to Jennifer, this protocol will help your vaginal tissue bounce back. You'll see a difference in 3-4 days. In 10 days, you'll be able to get the tip inside without pain. By two weeks, you'll get the light in there, which will REALLY help.
To the women experiencing pain with intercourse (and the men who love them), hope is on its way. Just order your VFit today. Vaginal tissue atrophies without stimulation, but stimulation brings it back.
The solution to your problem is in your hands… literally!
Here's to your vaginal health and sexual well-being,
Be sure to add FLOW to the routine described above. It's the only product of its kind on the market!
I made a special deal with the folks at JoyLux just for you. Use the link below and get a bottle of their extra-special moisturizer FREE!