Women's Pelvic Health Masterclass With Isa Herrera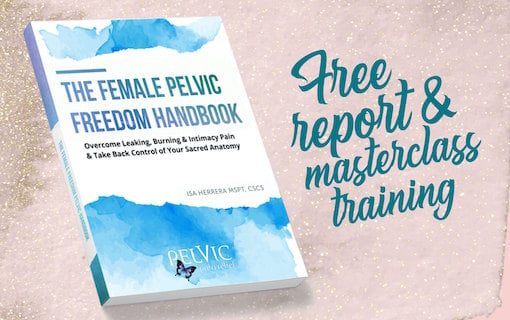 There is no better time than now to prioritize women's pelvic health and freedom. Here are a few shocking stats that might get your eyebrows shooting for your hairline…
It turns out that 30 million women across America suffer from pelvic issues such as leaking, pressure, and pain with intimacy. 30 MILLION!
And while many women suffer in silence (thinking their condition is "normal" or too embarrassing to talk about), those that DO seek help are often disappointed by conventional medicine as they go on a "Doctor Roadshow":
61% of women who suffer from pelvic pain do not get a definitive diagnosis
The average woman with pelvic issues sees a minimum of 5 doctors!
50% of women seeking help are dissatisfied with their care
People tell women that their symptoms are due to stress, tiredness, or "will get better with time."
If you're suffering, that is NOT what you want to hear!
The truth is many doctors lack the expertise to deal with female pelvic conditions. That is why I'm so glad that Isa Herrera, America's #1 pelvic healer, author, physiotherapist, and pelvic floor specialist, who's helped more than 14,704 women, is stepping into that HUGE GAP and giving us the tools to take care of ourselves.
Isa's just put out a new FREE PDF: The Female Pelvic Freedom Handbook. Grab your copy to discover her 5 steps to pelvic healing.
⇐ Women's Pelvic Health And Freedom Handbook To Overcome Leaking, Prolapse & Intimacy Pain And Feel More Confident And Sexier 
WOMEN'S PELVIC HEALTH GUIDE
In this FREE guide, you'll discover:
Why your breathing relates to your pelvic floor (and 3 simple exercises that will help you balance your pelvic floor with each breath you take).
How to use your brain to heal your body (Based on decades of proven science and research – this is real!)
Why sitting is the new smoking for the pelvic floor (and simple tweaks to make sure the way you sit, stand and work HELPS your lady parts without causing more damage)
The ONE yoga pose all women should do for extraordinary pelvic health
What your va-jay-jay needs to be healthy (and the common practices you should AVOID)
The reason why doctors don't know how to heal pelvic pain. If you've seen more than one doctor who couldn't help you, you need to read this.
And much more!
You'll also get a free ticket to join Isa's LIVE TRAINING "5 Simple Steps to Pelvic Power: End Leaking, Pressure, and Relieve Intimacy Pain In The Comfort Of Your Own Home"
If you have issues "down there" like leaking, tightness, itching, burning, pain with intimacy, or pressure, then you owe it yourself to check this out.