Sunlighten Solo Sauna Last Call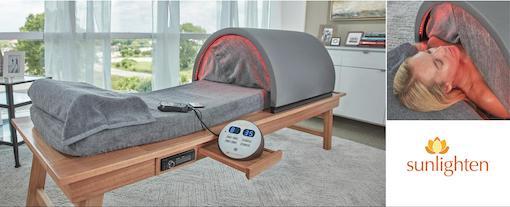 LAST CALL for the Sunlighten Solo Sauna Sale!
Sun­light­en is offer­ing their sin­gle per­son­al sauna for 25% off AND you save an addi­tion­al $100 with pro­mo code Susan­So­lo AND you get free ship­ping.
If you're wondering how you could even think about having a sauna in the middle of all that's going on, you'd be surprised.
Hundreds of my readers are asking about detoxing, specifically with infrared devices like the Sunlighten Sauna and the Sunlighten Solo.
That's because it has become painfully clear that one of the most important things we should all focus on is our own health.
We've taken our bodies for granted. We've taken our lifestyles for granted.
And we need to purge out the gucky stuff that's been clogged up in our systems and accumulating all our lives.
Sweating is one of the most natural ways our bodies detox harmful substances out.
And with the added benefits of infrared light technology, you can do more than just sweating with the Sunlighten Solo.
However, you must think fast and act now. Because today is the LAST DAY that the Sunlighten Solo will be ON SALE.

THE SUNLIGHTEN SOLO SAUNA SALE
Due to high pub­lic demand, Sun­light­en is putting its beau­ti­ful­ly ele­gant Sun­light­en Sauna Solo Sys­tem at its low­est price yet.
Imag­ine hav­ing your very own per­son­al sauna, good for one per­son at a time.
Use it every morn­ing, or before going to bed.
And take advan­tage of its infrared tech­nol­o­gy ben­e­fits.
With Far Infrared heaters, the Solo Sys­tem works by heat­ing your body at the core, rather than the skin's sur­face.
Sunlighten's patent­ed Solo­car­bon is the only infrared heater shown to low­er blood pres­sure, increase core tem­per­a­ture, and aid in weight loss.
This sys­tem is portable and easy to stow away.
This SALE is only for a very limited time.
⇐ Sunlighten Solo Sauna Time For Cel­lu­lar Heal­ing (Use Pro­mo Code "Susan­So­lo" for an extra $100 OFF + Free Ship­ping) 
Sun­light­en Solo Sauna Sys­tems offer the same health ben­e­fits as the com­plete sys­tems. They're just portable and suit­able for one per­son at a time.
The ben­e­fits include:
Detox­i­fi­ca­tion and elim­i­na­tion of tox­ins, heavy met­als, and drug residues through sweat­ing
Improved immu­ni­ty sys­tems through heat­ing of your inter­nal core
Increased fat burn­ing effects from increased core body heat
Sta­bi­liza­tion of healthy blood pres­sure lev­els and car­dio­vas­cu­lar well­ness
Improved stress reduc­tion effects from sweat­ing, med­i­ta­tion, and gen­tle, radi­ant heat
Improved pain relief from the expo­sure to gen­tle infrared light tech­nol­o­gy