Just imagine if you could CHANGE the way you FEEL…
…ON-DEMAND.
Think about how crazy the country is… no, the world is right now. A lot of people struggle to make sense of it all. And only a handful end up thriving.
But CONSIDER this for a second…
What if you could CONTROL your state of mind?
What if you could change the way you feel, literally on-demand?
You'd no longer feel stuck. You could instantly flick between desired states of mind as you wish.
You'd feel strong, capable, confident, sexy, smart, relaxed, intelligent, whatever you want.
All the struggles of being in the right "zone" or mood would disappear.
Well — I want you to check out Brainwave Shots.
They use unique brainwave sounds to change how you feel, all within just minutes. Just listen to the audio, and you're done.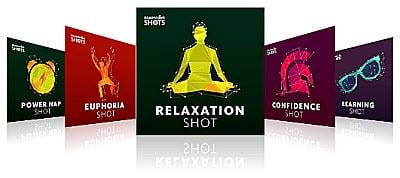 Imagine if you could just put on one of these audio tracks and almost instantly change the state of your mind?
Go from tired and lazy to enthusiastic and excited. Stuck to boundless creativity and brainpower. From being stressed out and triggered to relaxed and at peace. From struggling with new knowledge absorption to becoming a learning machine.
So many different mind-states available to you at the tip of your fingertips.
Never settle for a life that is less than what you deserve.
Experiment. Discover. Explore. Enjoy.