Happy BLOW & GLOW Holidays!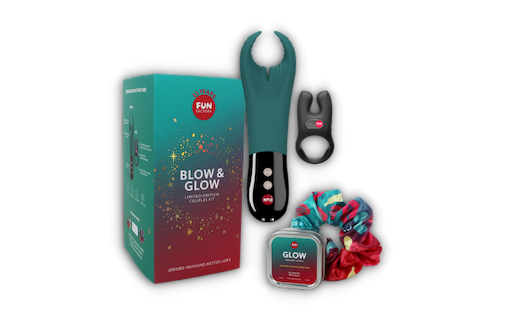 Two toys for infinite O's. Read on to learn more about this sex toy kit.
Ladies, and gents, I give you the MANTA and the NŌS.
The MANTA turns your penis into a vibrator for your lover and feels like a blowjob. And the NŌS helps you both orgasm simultaneously.
FunFactory has given me the signal to tell my fans about their NEW Sex Toy Kit going ON SALE.
SEX TOY KIT
FunFactory has always been one of my favorite sex toys brands because of its sheer ingenuity, high-quality toys, and mission to give more orgasms to the world.
Here's what's inside the Blow & Glow Kit:
The MANTA and the NŌS.
Ylang-ylang massage candle (helps soften every touch)
Six exclusive video workshops from Ashley Manta
Four sexy games to help you expand your play
A custom hair scrunchie, just for FUN
Usually, sex toys are attributed to female pleasure.
Then there are cock rings that help the guy maintain firmness during penetration.
And there are toys for men's prostate health and masturbation.
However, with the new FunFactory MANTA and NŌS, both ladies and gentlemen get simultaneous benefits.
The MANTA is fantastic for solo or couple's play. This turns the penis into a vibrating power tower that the lover can ride or enjoy orally. The MANTA was also designed to fit any girth. 
The NŌS is a vibrating cock ring with two little nubbies with dual motors that pleasure both the penis and the clitoris. For guys with trouble maintaining a firm erection, the NŌS cock ring can give him added confidence to stay hard and last longer. It's one of my most favorite things to come out of FunFactory.
You also get a great massage candle. It's made of soy and melts into the oil you can use for a sensual massage and smells of delightful aphrodisiac. You can also use it for temperature play by dripping the oil on your partner's body.