The Biohack-Your-DNA Summit is live right now, and it's been incredible! Learn all about biohacking the immune system.
So far, we've covered topics including:
The key to your metabolic health (hacking weight loss and digestion)
How to rewrite your mitochondrial health (hacking your energy)
What Dave Aspey learned after $1 million in self-biohacking
How your cells interact with your brain (hacking your immune system)
How to use genomics to fight disease (hacking your genes and DNA)
Learning about biohacking the immune system is FREE.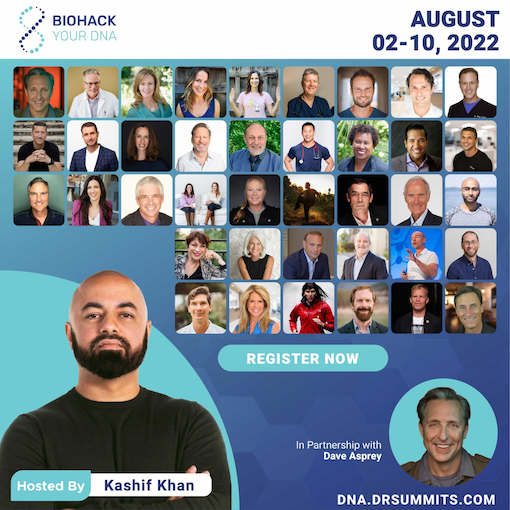 BIOHACK THE IMMMUNE SYSTEM
When you start watching the videos, remember to look at the caliber of experts and great minds who are set to share their knowledge during the event. 
Something like this doesn't always happen. And on topics as relevant and vital as this. 
You won't want to let the chance to keep the wealth of information being shared with the public slip away forever.
By upgrading from a FREE account to the All-Access Package, you get:
✅ Online Access to ALL interviews with Experts, transcripts, and audio files
✅ Exclusive Bonuses for All-Access members only (PLUS all regular bonuses)
✅ Transcripts and audio files of every interview​
A higher package gets you a USB flash drive containing everything mentioned above. So you can hold the info source in your hands to watch (and rewatch) as often as you want.
PLUS, you also get a FREE digital-only package (no USB flash drive) you can share with a loved one or a friend if you want.
Fight disease, get stronger, reverse the aging process, heal faster, and feel vital well into old age and beyond.
This summit brings together more than 40 of the world's leading experts in DNA, epigenetics, and nutrition, and it also comes with hundreds of dollars in bonuses — just for registering.
You'll watch expert interviews with the most innovative and connected people in health and wellness—JJ Virgin, Dave Asprey, Ari Whitten, Brendan Moorehead, Jessica Drummond, and many more.