The Mitochondrial Matrix Summit is live right now, and it's been incredible!
So far, we've covered topics including how you can:
Restore Your Energy Edge: Unlock the total capacity of your mitochondria – aka the powerhouse of your cells – to fight fatigue and ignite your energy for life! Reach your peak levels of mental, physical, and biological performance.
Clear Brain Fog and Refocus on Your Goals: Become the most focused person you know and embrace productivity like never before! Get back to your old self at work, get serious about your goals, and trust yourself to be able to handle whatever comes your way.
Say "Yes!" to Life Again: You can have a career with a "capital C," run marathons, organize a monthly book club, spend time with your friends and family, and get enough sleep at night. When your cells make enough energy, you can check ALL the boxes.
Heal Your Relationships: Reclaim the relationships you've lost to fatigue, food sensitivities, and overwhelm. It's time to start RSVPing yes to the dinner invitations and weekend trips again.
Become a Stress Management Pro: Some stress is inevitable, but that doesn't mean you have to feel like you're drowning in it. Harness the power of your parasympathetic nervous system and heal your brain to handle stress with ease.
Strengthen Your Immune System: Free your gut from toxins and watch how the ripple effects boost your immune system for long-term health.
Balance Your Hormones: Learn about the connection between your mitochondria and hormones, and finally get the balance you need to reduce stress, fight weight gain, and have happy, peaceful menopause.
And it's FREE.
RECHARGE YOUR MITOCHONDRIA
When you start watching the videos, remember to look at the caliber of experts and great minds who are set to share their knowledge during the event.
The wealth of information shared in this space is essential if you want to live a long, healthy, optimal life full of energy and vitality.
By upgrading from a FREE account to the All-Access Package, you get:
✅ You'll own the summit for life.
✅ You'll get member-only bonuses and extras (including the unreleased footage we had to cut).
✅ You'll get PDFs and audio files of every presentation.
✅ You'll have a toolkit of information to reach for whenever you need it.
✅ You'll be a part of our online community of lifetime learners.
A higher package gets you a USB flash drive containing everything mentioned above. So you can hold the info source in your hands to watch (and rewatch) as often as you want.
PLUS, you also get a FREE digital-only package (no USB flash drive) you can share with a loved one or a friend if you want.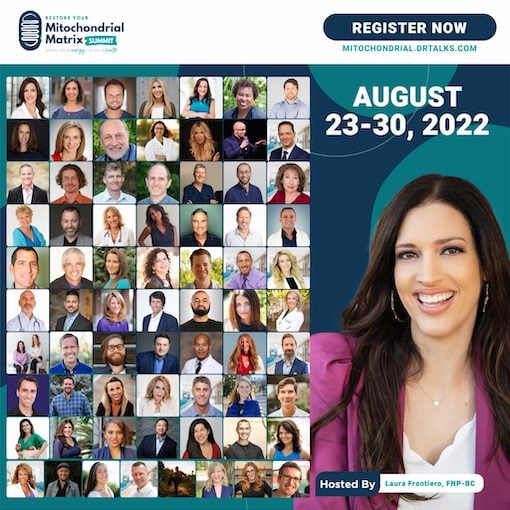 There isn't a single person in your life who doesn't need this information. When you discover how mitochondrial function and cellular energy production impact your energy, focus, and health, you'll want to send these presentations to everyone.
This summit brings together more than 50 of the world's leading experts in energy, health, wellness, and vitality — and it also comes with hundreds of dollars in bonuses — just for registering.
You'll watch expert interviews with the most innovative and connected people — Ari Whitten, Dr. Tom O'Bryan, Laura Frontiero, Isaac Eliaz, Eric James, Nicolas "The EMF Guy" Pineault, Keesha Ewers, Dr. Jessica Drummond, and many more.