"I first saw you on YouTube on Mark Bell's Power Project podcast. I'm the guy who goes back to verify everything I hear, and so far, you look spot on. I'm now a big fan.

I learned how to make my wife squirt a few years ago, and now regardless of what type of orgasm she has, she's not finished until she squirts (which I am happy with).

However, I've noticed that in the last couple of months, there has been a urine smell to her ejaculate. This has never been the case; as I said, only recently has it changed.

She's somewhat sexually shy and won't talk about sexual likes, dislikes, wants, etc… With that in mind, how the hell do I break the ice on this topic?

She's a very particular woman regarding hygiene, and I'm concerned that if this issue is not handled correctly, it could hurt her emotionally and sexually. We're in our mid 50's if that matters. Thoughts??" — Irvine (not his real name)
============================
Hi Irvine,
I guess the muscle that closes off the urine from the bladder when she ejaculates is getting a little weak with older age. A guy pees and ejaculates through his urethral tube, and so does a woman. The body knows when you're ejaculating vs. when you're urinating.
However, our soft tissues, joints, and ligaments begin to atrophy as we age. Probably when she's releasing her ejaculate, a tiny bit of urine gets into the urethra.
There are treatments and tools which reverse the aging clock on that muscle system. These recommendations below will not only reverse the incontinence (urge and stress types) she's having now, it will assuage future incontinence. In addition, these treatments and tools will improve her pelvic musculature, increase the intensity of her orgasms (as the sensation also begins to recede as we age), and improve her vaginal lubrication and the thickness of her vaginal, labial and clitoral tissue.
I'd suggest the three following regenerative therapies for shoring up the bladder "valve" so she doesn't leak pee when she ejaculates:
#1
. Since that tissue is at the junction where the bladder meets the urethra, your single best regenerative treatment is FemiWave, administered from outside the body in the abdominal area right where the bladder and urethra are located. Nothing is more direct than the acoustic wave stimulating new tissue growth at the exact location. It also helps with all the other issues mentioned above.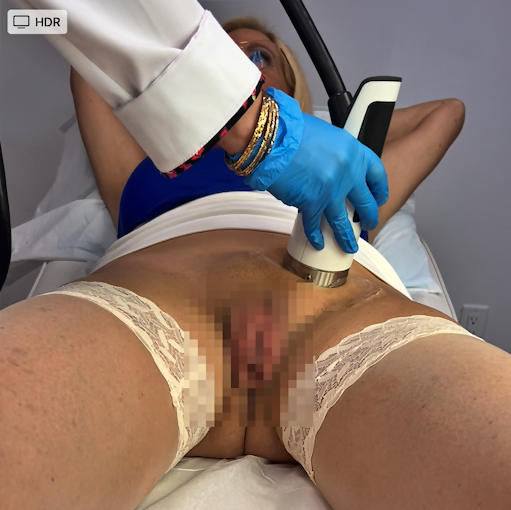 THIS IS ME GETTING A FEMIWAVE
All other companies' treatments, like C02 lasers and RF wands, go up inside the vagina and damage the vaginal mucosal lining to thicken it. I find these other treatments HURT LIKE HECK, and they are not targeted like the FemiWave to the bladder and the pelvic bowl to shore up the lower pelvic muscles. FemiWave makes noise, and you can feel sensation, but it is not burning the vaginal tissue with a CO2 laser or wounding it like RF treatment. It doesn't hurt, but there is healing time afterward to regrow new tissue.
While at the regenerative center, get some GAINSWave treatments to stimulate new tissue growth in your penis and reverse your 50-year-old atrophy.
Use Promo Code BETTER and get a 7th treatment free for both of you.
#2
. This tool is a godsend. It restores lubrication and improves vaginal laxity, tone, and grip. It helps with incontinence, and it helps with the vaginal microbiome. It's not as powerful a treatment as FemiWave. But for lighter cases of incontinence, it can help. The nice thing is you can do it at home, and it's a low-cost item you can use for years.
I demonstrate it on my Only Fans social media site OnlySusan.com.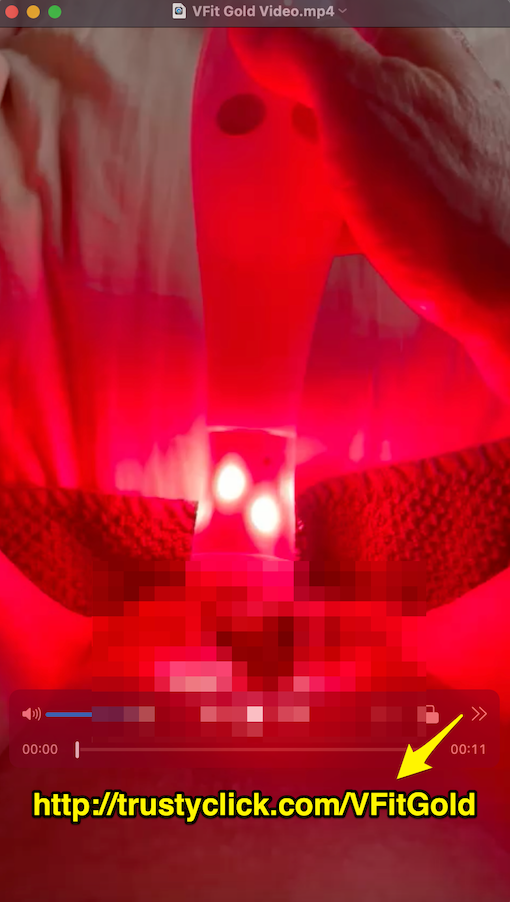 The VFit Gold is an excellent feeling tool.
#3 PRP Injections. I wouldn't recommend these O Shots as a stand-alone fix for your wife's likely issue. (Again, it's just an educated guess from an anatomy nerd who ejaculates as well.) But PRP, which comes from your body's healing and growth factors, is complementary to a series of FemiWave treatments. You can find a practitioner who does both. They go hand-in-hand. The PRP injected into the roof of the vagina, up into the urethral sponge, especially after a series of FemiWave treatments, will accelerate the healing and new tissue growth that comes from the acoustic wave treatments. They also inject it into the clitoral tissue, which improves orgasmic sensation immensely. Between the PRP in the urethral area (G-Spot) and clitoris, she will have mind-blowing orgasms and squirting sessions.
If you think I nailed it, let me know. If it is something else, fill me in.
I'd research FemiWave locations, check out the cost and if you can afford the investment in your sex life, just explain to her what's happening and offer to take her for treatments. No need to be shy about it. You two have hot sex, you're getting old, and there's some light maintenance that is extremely common that needs to be done so she can relax and squirt her heart out.
Thanks for entrusting me.
Watch These Videos ⇐ PRP Injection Videos On BetterLover.com