What if true intimacy is allowed to thrive…
…unchained by the weight of sexual shame and trauma?
Do you feel this burden in your relationship? Do you sense the sting of a collective taboo that restricts us from freely expressing our sexuality?
Now, think of a world beyond these restraints. What if we could shed the weight of this shame and heal? What if we could delve deeper into sexual freedom and intimacy? What new opportunities, relationships, and self-understandings might we discover in this uncharted territory?
This is the core theme of the Sex Reimagined Global Summit, a gathering of enlightened minds and compassionate hearts committed to breaking down the barriers surrounding sexuality.
Your hosts, Dr. Willow Brown and Leah Piper, guide this transformative exploration.
With her background in Chinese and Functional Medicine and expertise in Taoist Sexology, Dr. Willow Brown brings a holistic approach to sexual health. She helps her students and patients use their sexual energy to manifest the life they aspire to.
Leah Piper, an intimacy expert with a diverse professional background in Tantra Yoga, Positive Psychology, and Somatic Therapies, is well-equipped to support individuals and couples on their journey toward sexual healing and intimacy. Her struggle and triumph over sexual challenges are a testament to the power of her methods.
I am also one of the speakers at this online event, and I'm inviting you to join us for FREE to explore how we can express our sexuality free from shame.
⇐ Sex Reimagined Global Summit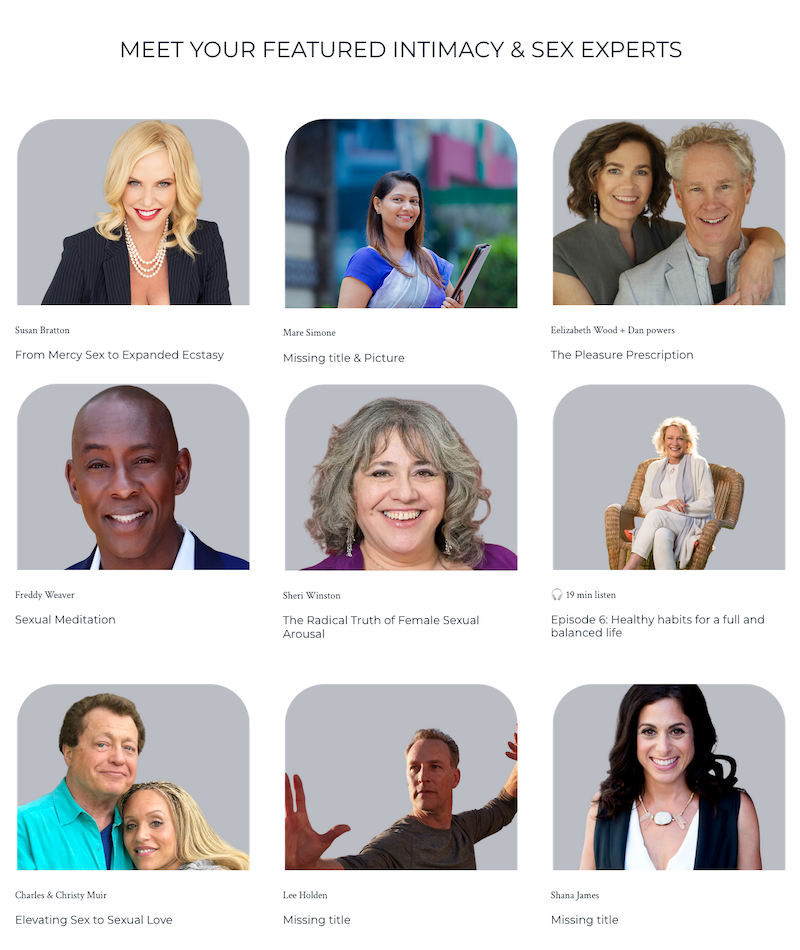 Experts like Mare Simone, Elizabeth Wood, Dan Powers, Lee Holden, and my mentor Sheri Winston are among our impressive panel of speakers. Each of us offers unique perspectives and insights to help overcome societal taboos surrounding sexuality.
This summit represents more than just an event — it's a platform for a necessary dialogue, a catalyst for a shift in societal perspectives and personal understandings of sexuality. The discussions we are about to have here are crucial for individual healing and imperative for societal change.
Why should you join us?
Because it's time for a transformation, a chance to reshape and enhance our understanding and experience of our sexual selves. This journey towards sexual freedom and liberation is crucial for personal development and for paving the way toward a more accepting society.
Join us on this transformative journey. Be part of the conversation, part of the change.
Let's, together, imagine and work towards a world unburdened by sexual shame and trauma, a world thriving with true intimacy. Be part of the Sex Reimagined Global Summit. Let's reimagine sexuality together.
⇐ Sex Reimagined Global Summit