I have three longevity devices to share with you today that I love. A new PEMF mat, sauna blanket, and red light mask.
I met with the CEO of HigherDOSE at the Biohacking Conference. She sent me the mat, blanket, and mask to try out. I LOVE them all, but perhaps the PEMF mat the most.
My girlfriend Naia also tried all three, and here's what she had to say: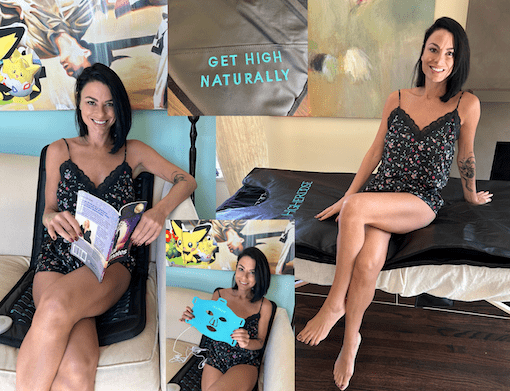 Black Friday SALE Is On—Get A 20% Discount With Promo Code "HDBFCM"
Here is my bed today after I got home from my workout. I rejuvenated in bed on my PEMF mat and wore the red light mask.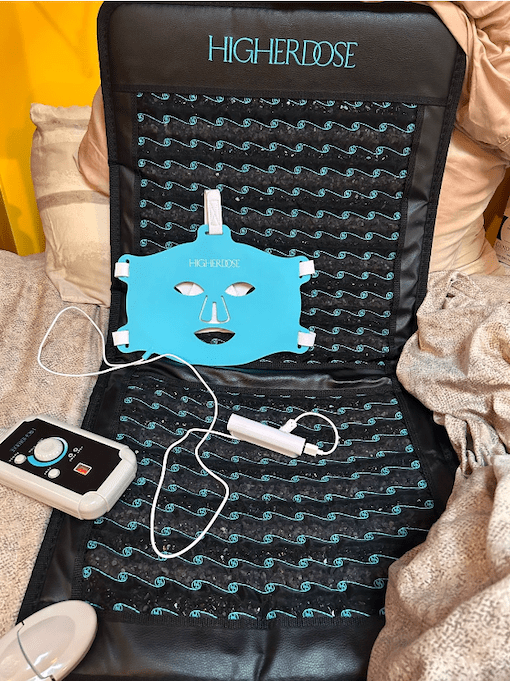 My favorite is the PEMF mat; I sit on it every day. The red light facial mask has holes for your eyes, nose, and mouth, so you can put your glasses over it and still scroll your phone, read a book, or watch TV while you bathe in photobiomodulation.
I'd love to have one of these mats on my office chair, one on my sofa, and one on my studio couch! I'm finding it addictive and refreshing. I'm drawn to sit on it. I seek it out. That's pretty extraordinary for a longevity device.

This would be a great gift for a Mom or Dad, for someone who works out a lot, is in chronic pain or with inflammation, is exposed to a lot of EMF, or is sensitive to machine frequencies.

The red light mask is great for beauty-oriented people who want natural ways to improve skin tone and texture.
The sauna blanket is great for relaxation, detoxification, and muscle recovery.
Act fast to shine a light on some sizzling savings for holiday gifts. HigherDose red light, PEMF, and sauna products are well made, efficacious, and cutting edge for self-care or caring for a loved one!
Black Friday SALE Is On—Get A 20% Discount With Promo Code "HDBFCM"
Disclaimer: We frequently partner with companies providing products and services featured on our website in an affiliate relationship. We vet the products in advance to ensure they are trusted resources and recommend you research before purchasing. We welcome your feedback and recommendations. If you buy one of the products we recommend or click on one of the links in this article, we may receive a commission. Thank you for supporting us!