Ways To Satisfy Her In Bed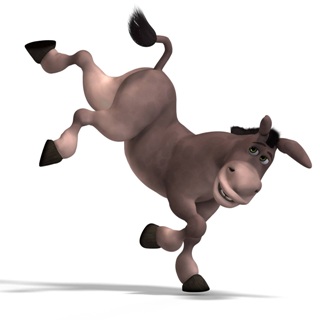 Don't laugh. This is not only a real question from one of our Insider's Club members, it illustrates the lengths to which a man will go to satisfy his woman.
Hi Susan

Now I want your advice as I am 6 inches once erected but my partner wants more deep penetration to enjoy. I tried my best, plus fingering and rubbing her clitoris, but she is still not satisfied.  After I make love to her she is very cool to me. I start foreplay by kissing and massaging her breasts until her nipples are erect. When I check and find her wet, I penetrate her. I feel happy but she does not. Should I bring a huge animal like a donkey to satisfy her? I am thinking of leaving her. I will wait for your opinion.
I am very relieved that you emailed me before leaving your partner.
And I appreciate the lengths to which you'd be wiling to go to satisfy her.
But you do not need a donkey and a 6" member is an excellent tool, along with your fingers and tongue.
All you need is within you now.
Here's the important concept that will help you fully satisfy your lady.
Kissing her and playing with her breasts is excellent foreplay. Good job.
But feeling for when she's wet and penetrating her is not enough.
Women can be "wet" and still not aroused enough for penetration.
Have you heard of this word, "engorge?" It means to fill with blood.
You know how your member gets hard when you get aroused?
Women are the same. The tissue inside and outside her vulva will get pillowy, plump and full of blood when she gets turned on.
If you penetrate her before she wants you inside her, she will not feel the pleasure that is possible and will not enjoy lovemaking with you.
In addition, when she's engorged, the insides of her vagina will expand and her G-Area will balloon out of her vagina a bit.
Then when you penetrate her it will feel nice and tight for you both. She will feel more penetrated when she's engorged.
You can also alternate with your penis and fingers if she likes feeling the length of her fingers inside her.
Please use lube. Another reason your thrusting may not be satisfying her is that in addition to not being properly warmed up, she may not have enough lubrication of her own because of that.
Some avocado, grape seed or coconut oil that you could cook with and is clear and very light colored is excellent lubrication.
You will need that to stroke all around her vulva and her clitoris.
The best thing to do is to take your time touching and stroking her genitals for a half hour or until she's begging you to put yourself inside her.
Gently, lightly and quickly keep a steady stroke on her clitoris as you are inside her.
The most important thing is to get a LOT of feedback from her as to what she likes.
Each day a woman's vulva changes because of hormonal fluctuation. Sometimes she'll want it fast, other times hard or soft or slow.
Begin an intimate conversation with her each time you make love.
Find out her mood and what she wants.
And don't feel badly at all about any of this. I can tell you want to please her and you will.
You are smart to come to a place where you can get trusted and good advice.
Learn more how to satisfy  her on bed, download our eBook for FREE!