Giving Head, Blow Jobs, Oral Pleasuring: Why Women LOVE It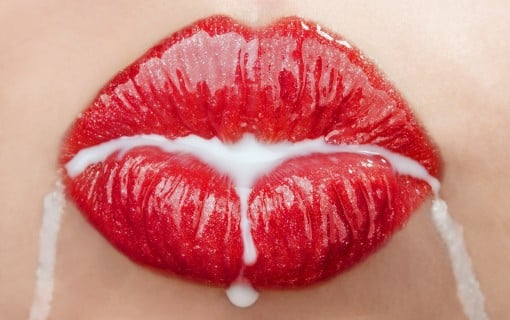 Most conversations about blow jobs center around not getting them enough.  Today I want to explain to you what's in it for the woman.
Why would a woman desire her man's penis in her mouth? What is her motivation? What does it feel like for her? How does she feel about herself for loving to pleasure a man with her mouth, tongue, lips, throat, fingers all at the same time? How does oral sex get more and more turned on and blissed out? How can she make herself orgasm from giving YOU oral sex?
I'll tell you.
Sure, some women give their man a blow job just to make him happy. If that's the only kind of oral sex you've received, I want you to know that there are women that absolutely LOVE to suckle a man's penis.
Believe it.
And you can open your woman to the pleasures of bringing sensation to that end of her "hollow flute." Her throat and mouth are just the other end of the central channel that runs from her kisser to her genitals. To reach the level of experience where she's "into it. . ."  Where she's comfortable loving your manhood with every aspect of her mouth.  Where she gets so turned on being intimate with you that she is called. . . literally impelled to snatch up "The King"  and start going at it.
I'll tell you how to bypass the you-lick-me-and-I'll-lick-you-back exchange.
And get to where she actually desires your cock in her mouth.
Any woman can gain the confidence that comes with experience. . .  simply by practicing. If you can guide her, tell her what you like, her confidence will increase, knowing she's doing what you like. The more you tell her what feels good, the more she feels confident she's pleasuring you. And that makes it a "win" for her.
Women get performance anxiety too.
I heartily recommend you read this book, Blow By Blow, by my trusted friend, Michael Webb. It gives excellent technique details and will how you how to tell your lady what you might like. She needs your direction to feel comfortable that she's doing a good job.
Letting her know what you like and what feels good as she's doing it is enough to get her started on enjoying herself again.  If your woman has never given you oral sex, you have to begin-as-a-beginner with her. Read my Oral Sex Solution blog post to learn what to do to get her to give you oral sex for the first time. I wrote this free ebook about 8 months ago and it's getting the number one spot on Google!
You will need to ask her to give you oral that morning and then get your penis out that night and ask her if she'd be willing to just do 3 little licks. ("3 Little Licks" is my Hubby's Sneaky Trick.)  Once she is giving you head, you gotta tell her everything you love about it, moan and groan and thank her profusely — we call it "puppy skill building." Think of it like training a puppy. Give the puppy praise and treats.
Hey, we all need puppy skill building.
I promised to tell you WHY we women for whom giving oral sex is as much of an erotic, orgasmic experience as getting it.  I admit for me, giving head is better than getting eaten.  (For those of you who think, based on saying this, that I have just never had oral sex as good as YOU can give it — think again. I have.)
I can only tell you what I know. I can only describe what I've experienced. When you consider women are like snoflakes, you can imagine all the billions of permutations that turn woman on.
I know that for me right now, I'm really enjoying the growth that I feel that I'm getting from my oral sex practice.
Almost every time I give my man oral sex, I learn something new about myself. I feel that blow jobs have opened me almost as much as my Expanded Orgasm practice. It's a different kind of opening, Expanded Orgasm taught me how to really feel my clitoris and my labia, my G-area… I discovered so many sweet spots in my Yoni as I became more engorged, more alive from my Expanded Orgasm practice with my husband.
Oral sex didn't effect what I feel in my genitals as much as it created a new kind of orgasmic pleasure for me. Oral sex added to the kinds of orgasms that I could experience. I had previously learned to enjoy clitoral, vaginal, G-Spot, perineal, body gasms, kissing gasms. . . but when I started getting really good at oral sex, enjoying it and wanting that penis further and further down my throat. Feeling myself getting more and more turned on as I pushed his cock deeper into my throat. I did this very slowly over time. In the beginning I would just take the tip of his cock and later the top third of his cock into my mouth. Now, maybe four year later, each time that I have oral sex, which is every time I have sex, I want his cock way down deep inside my throat.
What I found is that I can have as great a series of orgasms, and I have pretty great orgasms, by having his cock in my mouth as I can by having his penis in my vagina.
Oh, just as an aside, I'm sorry about the words that make you uncomfortable in this blog post. It's really hard to find any words that everyone's comfortable with that don't sound like Dick and Jane first grade silliness. So just embrace every word and we will do our best.
I really surrender myself to the sensations of how his cock feels on my lips and tongue.
Long strokes, short strokes.  I like sucking, licking, circling, overlapping, doing pretty much anything that I can think up in the moment is what I like. I've gone way beyond technique. I'm in the place now where I just make stuff up as I go along and it's awesome.
That's what confidence gives you. The ability to let go and surrender to whatever just feels really good that you want to do with his cock in your mouth.
I like just to give oral sex and I also like to do 69. I find that I can lose myself more when I'm just giving, instead of having to worry about receiving. The way I found it works best in 69 is to not worry so much about having orgasms in my vagina while I'm also getting off in my oral experience. Instead I just focus on having orgasms in my mouth. Because what happens is that sometimes they are so intense, that I actually ejaculate down below while I'm orgasming in my mouth.  Stimulating my mouth, lips, tongue and throat also make my vulva orgasm.
In many Tantric sex books a woman's alimentary system is likened to a hollow, or bamboo flute. There are a whole series of sphincters in her body, from her mouth to her duodenal sphincter, all the way down through to her vaginal opening, or introitus. Each of these, I learned from Sheri Winston, move in lock step. When one opens, they all open. So when a woman gets turned on giving oral sex, it also opens her introitus.
I thought to myself, "How can I connect my mouth and my pussy>" "How can I have that incredible feeling all the way up and down?" The "bamboo flute" analogy was another reason I was drawn to explore the potential of oral sex.
I realized there was massive upside potential in my body for pleasure and my orgasms continue, to this day, to get better and better constantly. I remembered that I learned over time, through my Expanded Orgasm practice and just getting better at lovemaking through practice could make my pussy feel more and more sensation. I knew that I could make my throat and my mouth feel more and more pleasure just by practicing oral sex.
I'm getting ahead of myself.
I didn't used to like to give oral sex. It took too long. I didn't like the ejaculate in my mouth. Oral sex felt like a chore.
But through this exploration, a switched was flipped me. And it can be flipped in any woman, if the conditions are right. And the two components are that it takes are to establish a safe way she can practice and gain confidence. And then give her positive, specific feedback and appreciation.. And then you have to invite her to do it with you. To be willing for her to learn slowly and positively.
So now you know why it's a benefit for a woman to want to give a man oral pleasure.
Because sucking his penis can make her have orgasms.
But that's not the only reason.
It's very intimate. What could be closer than two people with their genitals in each other's mouths? That's really opening to each other. Which is a beautiful thing. Something so earthy and human is one of the best pleasures in life. So she has orgasms and it connects her to someone else for brief time.
Another reason that she loves to give blow jobs is because it can really get her turned on. There's something about actually admitting to yourself and your man that you  get off when he's in your mouth. It's kind of slutty. That's probably a cultural thing. But it feels good when it's safe to be slutty with your man. It brings a woman out of herself. It makes her feel like a goddess.
Feeling like a goddess is really important to a woman, and in an upcoming blog post we're going to tell you why.
I promised to tell you what it feels like for her to give you oral sex.
There are a couple of things I want to tell you about. The first is what it feels like in her mouth. The second is what it feels like all over her body. And the third is what feels like in her brain and her mind and her heart. When you're giving a man a blow job, a really good blow job, you're not really thinking much in your mind and your heart is just wide open.
So first I'll tell you what it feels like in my mouth, because that's the only thing I can tell you.
The very first thing you should know is that it's awesome to start with a soft penis. Don't feel like you have to be giant and hard for your woman to give you a blow job. One of the pleasures of suckling a man's cock is actually taking it from flaccid to hard very slowly.
It's such an amazing thing to see how your penis gets hard. And then to experience that as part of an oral sensation is really divine. It's truly an honor. And every time I do it I'm in awe.
It's also wonderful to feel the texture when a man's penis goes from soft to hard. It's a little more dry in the beginning, of course. And as a woman's saliva becomes more lively from doing all of this work, and as your penis stiffens, it gets slicker and slicker.
I personally like to hold a man's penis in my mouth and just rest it there and then suck it long and slowly in and out. I like to use a lot of variety. I try all kinds of moves. I'm constantly moving and changing it up. Two or three of this, a lick on that, one or two of these sucks, then I try something new again. It feels really good when you can just let yourself go. When you're mindless. When you're not thinking about what you're doing in any way. But instead you're just feeling your way through your desire.
Again this comes with practice.
There are the kinds of strokes that are longer and deeper, shorter and smoother, long licks up the shaft, ball tickling with fingers. The variety is endless. But it's really good each time your woman is doing something particularly delicious to you to tell her that you love it in the moment.
Then you can tell her afterward some other things that you loved about what she was doing. Dr. Patti calls this, "Sharing Frames." This is quintessential puppy skill building. And it makes your lovership HOT.
Spit.
Saliva is a whole world unto its self.
When I first start giving oral sex, I don't have very much saliva.
But as I let go, relax and enjoy myself, I notice that my saliva starts to build up. Over time my saliva goes through lots of different viscosities and even colors. Sometimes I'll give my husband oral sex for 10, 15, 20, 30 minutes. I go as long as my knees hold out sometimes. And during that time I notice that my spit does all kinds of weird things. Sometimes it's foamy and white. Sometimes it's really clear, long and stringy like raw egg white. Sometimes when I'm orgasmic from oral sex, my throat is actually having some kind of release of saliva or ejaculate of some sort.  I believe my throat ejaculates when I get really turned on from oral sex and it's making me orgasm.
You might be laughing at me right now. But remember, I'm a sex nerd.  I pay attention to everything. I track my progress  And notice when I've grown.
I recently took some time just to have inward self-reflection about where I am in my sexual maturation. I wanted to know what my next steps were, sexually speaking. So everything I am telling you here is from the perspective of a woman who is actively pursuing her sexual growth.
Please don't expect your woman to be like this. I had a decision to make when I planned this article. I could dumb it down for you and tell you a few simple things. The simple things that everyone else tells you. How to lick this or that. But ultimately the best thing I can do for you, the highest service I can give you, is to tell you where you can go. If I was nota sexual champion, if I didn't push myself and keep a keen eye on my sexual awakening, how can I share with you the path that lies ahead?
Go easy on yourself. Go easy on her. Remember what Dr. Patti says. Just focus on bringing pleasure into her life. This is the key. Make her feel good about any progress that she makes. Reward her. Hug her. Love her.
Download our FREE eBook below to discover more lovemaking ideas.