Read on to learn how to heal the gut.
Get this.
There was a time when the medical community would roll their eyes at the mere mention of a 'leaky gut.' Doctors only started to believe when multiple studies proved what the functional & integrative space has long known.
But here's scarier news. 
Increasing evidence now points to a clear connection between the gut and the brain.
Any adverse change in the GI system (e.g., a leaky gut) can affect the brain, creating this vicious cycle of people with digestive and mental health issues. 
That includes depression, anxiety, brain fog, and autoimmune brain problems.
As you can imagine, mainstream medicine also ridiculed this link at the beginning.
But no one's laughing at this anymore.
To show you the latest research on the topic, I want you to have this brand-new ebook called "Leaky Gut Report" from health researchers Sarah Otto and Matt Potts. 
⇐ The Leaky Guy Report (Signs And Symptoms Leaky Guy May Be Affecting Your Mental Health) 
HEAL THE GUT, HEAL THE BRAIN 
Within this guide's pages, you'll discover:
How a leaky gut evolves to become a leaky brain
The known (and little-known) causes of a leaky gut (I promise you, some of these would be new to you)
13 decisive and science-backed steps you can take starting today to repair your gut lining and your blood-brain barrier
An anti-inflammatory plant with thick leaves and a gel-like substance that can help with acid reflux, digestion, poor memory, and depression
A tree native to North America with a slippery, thick gel that can both soothe & coat digestive tracts, as well as relieve stress and anxiety
An ancient bright yellow 'wonder spice' with anti-inflammatory and antioxidant properties that are frequently used for acid reflux and stomach ulcers but has research that now shows its ability to help with Alzheimer's, poor memory, depression, and Parkinson's
The leaky gut syndrome is a sneaky digestive condition affecting your digestive tract.
Gaps in your intestinal wall can form, allowing bacteria and toxins to move through your bloodstream. This leads to inflammation because unhealthy elements begin moving into other parts of your body—including your brain.
This is scary, yet it has profound possibilities as a medical breakthrough. 
What makes it exciting is the discovery that by healing the gut… you can recover your brain. Yes, including common mental health challenges.
Check out more information in the Leaky Gut Report.
⇐ The Leaky Guy Report (Signs And Symptoms Leaky Guy May Be Affecting Your Mental Health)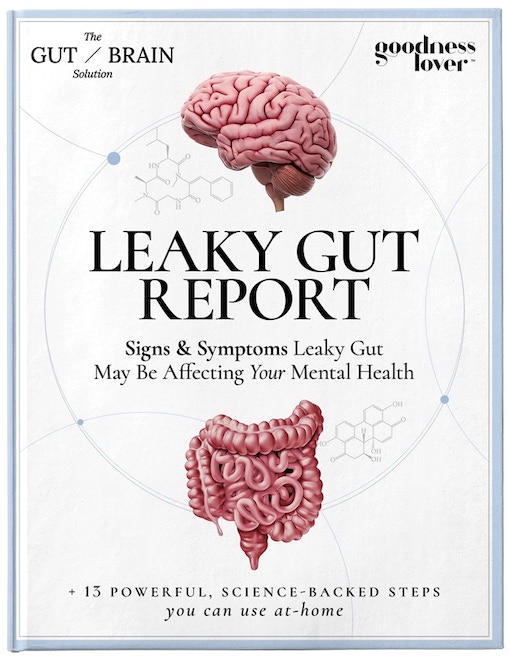 When you sign up to download the report, you'll be automatically registered to join The Gut-Brain Solution Masterclass.
It's an incredible 9-part masterclass series where they talk about the hidden causes of fatigue, anxiety, depression, memory loss, brain fog, and many gut issues. 
You'll hear from over 30+ world-leading experts on health and wellness who share their best advice for overcoming mental health challenges through proven and practical remedies to heal your gut. 
⇐ The Leaky Guy Report (Signs And Symptoms Leaky Guy May Be Affecting Your Mental Health)